Quick Answer: Press and hold the Bluetooth and Vol+ buttons at the same time for 5 seconds to reset your Anker Soundcore speaker.
So, Yesterday I was enjoying music on my favorite Anker Soundcore 2 Bluetooth speaker, and suddenly the speakers stopped playing music. It was in the middle of a song after working perfectly fine for quite some time. I wanted to reset the Anker speaker because it is not responding and not evening pairing with my smartphone. But I could not find anything online about it. So, finally, after searching for hours, I found out how to do it.
Possible Fix For The Problem:
Since this is not an old speaker and it's pretty new, I doubt there is something wrong with the speaker itself. It might be a software bug that caused this. On the other hand, the problem was probably caused by some background app or process that suddenly stopped working, leaving the speaker unstable until I reset it.
How to reset Anker Soundcore Speaker (2 Methods)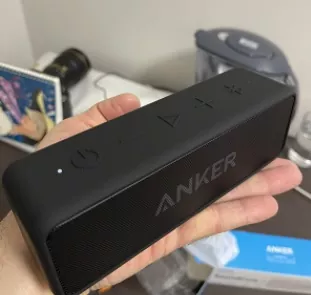 To reset an Anker Soundcore speaker, I will be sharing two different methods of resetting your Anker speaker. It is not a very hard process, but it might be a little bit confusing the first time you do it, so just follow my instructions, and everything will turn out OK.
Note: The different Soundcore speakers have different reset ways. The below reset method will work on Anker Soundcore 2 speaker.
Anker Soundcore 2 Speaker (Hard Reset)
In order to reset ANKER SoundCore Bluetooth Speaker, you need to forget the pairing on every device that has been paired with this speaker.
Now Hold down the Volume+ and Play/Pause buttons at the same time for 5 seconds.
Next, you will need to press and hold the Bluetooth button for two seconds.
The blue light on the speaker should start flashing and indicate the speaker is in pairing mode.
Congrats! You have successfully reset your Anker Bluetooth speaker. Now you can connect and pair soundcore speaker via Bluetooth or an Auxiliary cord and enjoy the music again.
By following the above instructions your Anker Soundcore 2 speaker will get back to its factory settings.
Anker Soundcore 2 Speaker (Soft Reset)
Press "Power Key" once to turn off your ANKER SoundCore Bluetooth Speaker.
Wait one minute to let the ANKER speaker stop its operation.
Turn on your ANKER SoundCore Bluetooth Speaker by pressing the power button.
Great work! After following these steps, you should have been able to resume using your ANKER SoundCore Bluetooth Speaker.
How to Factory Reset Anker Speakers (All Models)
The resetting method will be different for some Anker speaker models. So we have put together an extensive guide of resetting methods below:
Method 1:
Press and hold the Bluetooth and Vol+ buttons at the same time for 5-10 seconds to reset you Anker speaker. You can reset following Anker speaker with this method.
| | | |
| --- | --- | --- |
| Soundcore Mega | Soundcore Rave Mini/ Rave PartyCast/ Rave Neo/ Rave Neo SE | Soundcore Trance and Trance Go |
| Soundcore Mini 2 and Mini 3 | Soundcore Model Zero and Motion Boom | Soundcore Icon/ Icon Mini/ Icon+ |
| Soundcore Motion+ | Soundcore Wakey | Soundcore Ace A1 |
| Soundcore Select 2 | Soundcore 3 | Soundcore Flare+ / Flare S+/ Flare2/ Flare Mini |
Method 2:
Press and Hold the Multi-function/ Vol+ buttons for 8 seconds. This method will work for the below mentioned speaker.
Method 3:
You can reset your Anker speaker by Holding the "D" button for 8-10 seconds in AUX mode. It can be performed for the below speaker model.
Method 4:
Press and Hold the Bluetooth/Next track buttons for 8 seconds to perform a factory reset for the following Anker speaker.
Method 5:
Press and Hold the BassUp and Play/Pause buttons simultaneously for 10 seconds to reset your speaker.
Method 6:
Press and Hold the Bluetooth button for few seconds. This method will work for the below Anker speaker models.
Soundcore 1
Soundcore 2
Soundcore Pro+
Method 7:
Hold the Mode button for few seconds to reset below Anker portable speaker.
Method 8:
Press and Hold the Power button for 5 seconds.
Anker Bluetooth speaker not connecting to Bluetooth devices
If you are facing the problem of Anker Bluetooth speaker not connecting to your smartphone or any other Bluetooth device, then you might want to try out these troubleshooting steps. If one method does not work for you, I am sure the others will. So, without wasting any more time let's get straight into these methods.
1. Forget the Device from the smartphone
If you are facing a problem, then you might want to forget that particular Bluetooth device and connect it again. This should not cause any problems because that device was already paired with your Anker speaker before. Follow these instructions to forget/un-pair a Bluetooth device on Android and IOS phones.
On Android:
Go to Settings > Tap "Device Connection" then tap "Bluetooth". And Turn ON the Bluetooth of your phone.
Now, tap the name of the device that you want to forget. And Unpair it.
On IOS:
Go to settings> Tap "Bluetooth". Turn "ON" the Bluetooth on your IOS device.
Now, tap the "i" button of the Anker Soundcore Bluetooth speaker device name. Tap Forget the device.
2. Check to see whether the Soundcore speaker is within range.
Bluetooth devices must be within at least 20 feet of each other in order to establish a Bluetooth connection. If things aren't working, try bringing the gadgets closer together. It will automatically pair with the last paired device when in range.
If the Bluetooth speakers are out of range the sound quality will be poor.
3. Update the Operating System of your Phone
Another possible reason for this issue could be that your current operating system is outdated or not supported by your Bluetooth device anymore. So, you might have to update the operating system on your phone to fix this problem. Follow these instructions to check if your Android Phone can run a newer version of the Operating System.
Settings > About phone > Android Version (Or Software info)
If the version is out-of-date, then you might have to update your operating system. If updating does not work, then it might be possible that your Bluetooth device is no longer compatible with your old operating system. So, you will have to make sure to use an operating system that is supported by your Bluetooth device.
4. Reset Anker Speaker
This is another easy fix for this problem. It might sound a little bit weird, but it has worked out great for me and many other people who faced the same issue as I did.
So, if you are facing this problem, then resetting your Anker speaker might be a great option for you to try out. Resetting your Soundcore speaker also improves the sound quality of your Bluetooth speaker.
I hope these methods have managed to fix your problem with Anker Speaker not connecting properly via Bluetooth.
Anker Soundcore 2 not turning on
Make sure that your speaker has enough battery life. Even if you connect the USB charging cable to a totally drained battery, the speaker will not turn on immediately. Before you turn it on, charge the device for around one hour.
While charging a speaker indicates a red light and when it's fully charged the red LED light turns into white light.
Final Words:
I would like to say that you should try this method before deciding to replace your device with a new one. Some app or a background task might cause this problem, and in most cases, it can be fixed by resetting your Anker Speaker.
I have personally used Anker Soundcore 1, Anker Soundcore 2, and Anker Soundcore 3 Bluetooth speakers, and I found them very amazing.
If you have any additional questions or comments about this topic, feel free to leave them in the comment section below. If the procedure works for you, please share it online, so other people with similar problems can use our solution.
Frequently Asked Question:
u003cstrongu003eHow do I factory reset my Anker mini SoundCore?u003c/strongu003e
Check that the speaker has a full charge for this. Resetting speakers using Bluetooth buttons and volume buttons is possible in 2 seconds. Removing a Bluetooth speaker from its memory is the easiest way to test.
u003cstrongu003eHow do you reset Anker SoundCore 3?u003c/strongu003e
In order to reset Anker Soundcore 3, press and hold both Bluetooth and Volume+ buttons at the same time for about 5 -10 seconds